Watch Markie Grow Up!
Markie is a beautiful doe and one of the many favorites at the Nature Trail Rabbitry. She grew up to be a Grand Champion and win 4 legs at the shows!  Here are her pictures from baby to blossoming.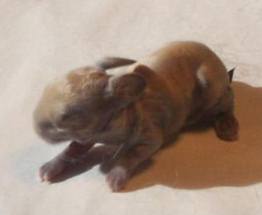 This is Markie just a day or two after her birth.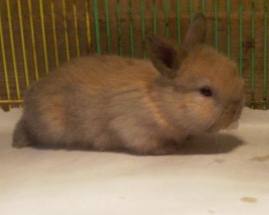 Here's Markie at about two weeks. Being the only one in her litter, she had access to plenty of milk and grew fast.
Four week old shot. Getting pretty cute!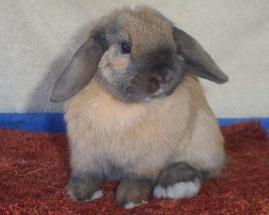 Here's Markie at three months old.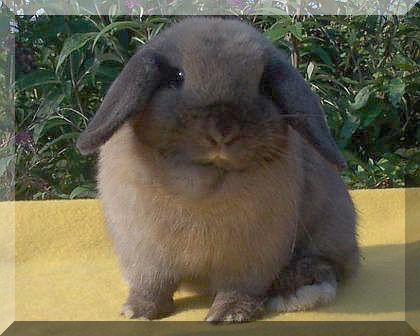 What a pretty young lady!  Markie is now a lovely Holland Lop junior doe showing lots of show quality potential.
This is Markie's Mom, Kirsten. Can you see the resemblance? Markie looks a little bit better behaved, though!
True Stories of Holland Lop Litters born at the Nature Trail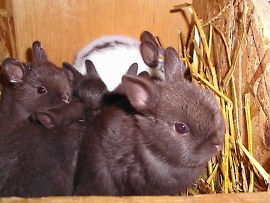 Here are the stories behind some of  Holland lop babies from the time they were newborns until they were ready to wean.  Do you have a story of a remarkable baby rabbit?  Tell us!  
Too Much Milk
These two kits of Celtus and Athena were so overfed that they could not turn themselves over. Overfed kits are at risk for problems, including splay legs and growing larger as adults. What can we do to help them out? Watch these fat-bellied babies grow into pretty young bunnies! More>>>>>
---
Five Does and a Tiny Buck
Five baby girls were born to Legolas and Steffi — five girls and one tiny boy.  The buck baby was very undersized, but we knew he couldn't be a peanut because of his dad's genetics.  Did he grow up healthy?  Yes, and very very cute.  Check out the weekly pictures here. More>>>>>
---