By Laurie Stoupe
Fall Maintenance
It's finally time to put away the fans. Yeah! But before they go into the shed for the winter, they will get a thorough cleaning. I'm determined to figure out which part needs to be oiled to keep them in optimal condition. I will probably forget about them completely until a hot spring day when I will need them to unfailingly jump into action.
These pleasant fall days are perfect for shoveling and dumping manure. Before long, it will be chilly or downright cold outside. Right now, I can plan next spring's garden and set the manure to doing its thing all winter long.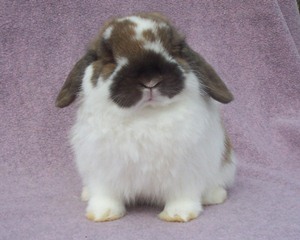 Immediately after Convention and right after Holland Lop Nationals, my barn has the lowest occupancy rate of the year. And the weather is mild, so that makes it a perfect time to unhang every cage to pressure wash them. I'm really looking forward to that. The pressure washer works so well that I almost feel like I have a brand new barn.
I also need to look ahead to see if my tarps are in good condition from last year. My barn is very open for ventilation during warm water. The rabbits are protected from predators by wire mesh, but the breeze can get to every part of the barn (except that one hot corner). But we live on a windy hilltop and there's far too much cold, rainy wind in the winter, in my opinion. So, I cover these huge windows with tarps on the north side and clear plastic on the south side when the weather gets rough.
Laset year, I promised myself that I would look into a heated, recirculating water system for my automatic watering lines. I guess time is running out to get that set up before freezing weather hits us. There were several days last December even when the lines froze. And December is just about 6 weeks away.
I suppose it's also time to start looking at the show schedule for the winter.
Right now, I have my schedule lined up through Christmas. Right after Convention, I need to start figuring out where I will show for January, February, and perhaps March.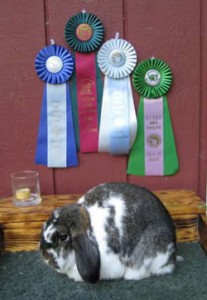 I will be finishing up breeding for young juniors at Holland Lop Nationals today. My next breedings can be more experimental in nature since the kits won't be competing at a national level as a junior. That should be a fun time to try some different things. I'll be spending some time thinking about what I want to try next.
Since I breed all winter, I think I should also get out my nest box warmers and make sure they still work. I only use them for singletons or very precious litters (perhaps a litter from a hard-to-breed or older doe). But they do come in handy from time to time.
I'm sure I'll think of a few more things that need to be done this fall. I'll probably think of them on a frozen winter's day with regret that I didn't do them earlier! But I guess I'll have enough to do to keep me busy for awhile.